How to Learn Italian with 11 Useful Apps
The use of apps for learning Italian is on the rise.
It isn't easy to pick just one Italian language app. Each App takes a different approach to learning and may be better suited to one type of student over another.
Learning a language, especially as an adult, is a trial-and-error process that takes time and effort. I've worked in the language education area long enough to know that learning a language just through app games is a pipe dream. Learning a language requires more than that, but all of these apps are valuable tools for supplementing and enhancing your core Italian language course.
Italian language learning apps to improve your Italian listening 
1. Beelinguapp
Beelinguapp is a language learning app that allows you to read and listen to stories in multiple languages simultaneously, including Italian, of course. Set Italian as your target language and find plenty of texts in Italian. The texts are, of course, divided by level. Once you pick your level, listen and read to the audio, then read the same text in your native language as a reference. The app lets you make flashcards with the new Italian words and sentences if you have come across them while reading the stories. 
2. ItalianPod101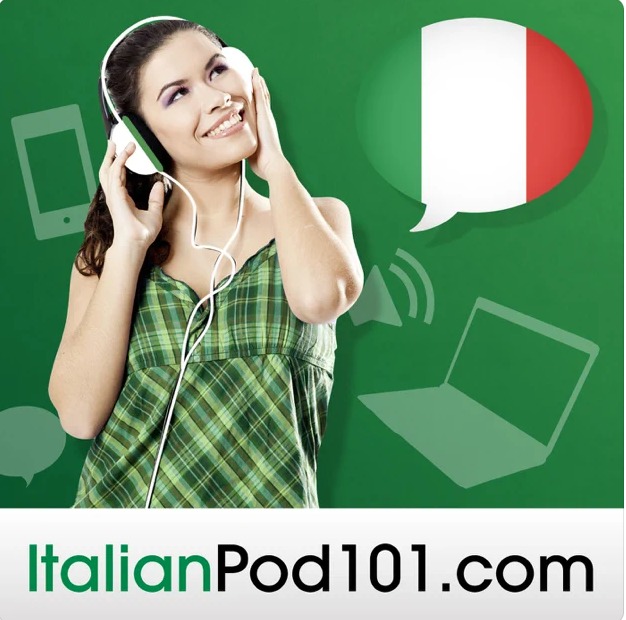 For those looking to study Italian on the move, this is a fun podcast and Italian language app. At any level, this app offers bite-sized Italian conversational lessons. ItalianPod101 is an excellent supplement to a standard course because it emphasizes listening and conversation even at the most basic level, unlike many other Italian courses. There are both free and paid m available. The paid subscription includes a variety of drills, flashcards, and additional exercises for practicing the language. Of course, the free membership is more limited, but it still provides valuable training for your Italian.
3. WordReference
WordReference is perhaps the best Italian free online dictionary for finding translations of Italian words as well as expressions or idioms. There is also a feature that allows you to listen to the correct pronunciation of the Italian words. What I like about it is that you may make a list of new terms that you have come across and transform them into a study list. 
Italian language learning apps to learn Italian through gamification 
4. Duolingo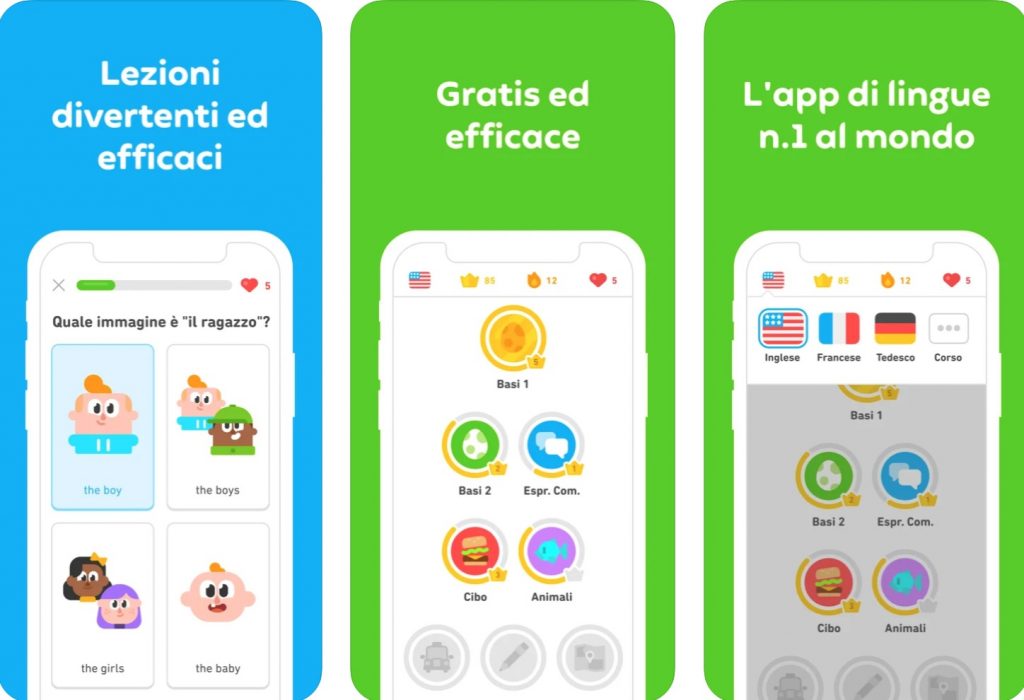 Duolingo is the most well-known Italian language app available. Language learning has become more accessible to everyone because of Duolingo, which is available for free. Duolingo is a fun tool to use in conjunction with a more traditional Italian course to learn the basics and beyond. The interface presents a series of sentences that can be learned and memorized over time. The downside to this App is that the sentences showed by the app lack context or a common thread, so it's not the most effective manner of learning. You can't learn Italian only through Duolingo. Still, it's a terrific way to gain a feel for the language before committing to a more intensive and professional learning method, especially as a beginner.
5. Drops
Drops is a true game experience in terms of learning. New words are presented together with illustrations, which is especially suitable for visual language learners. The best feature about this App is that it keeps the learning time a bare minimum of 5 minutes. Because of the time limitation, there is more fire and motivation, which leads to better memorization. 
6. Babbel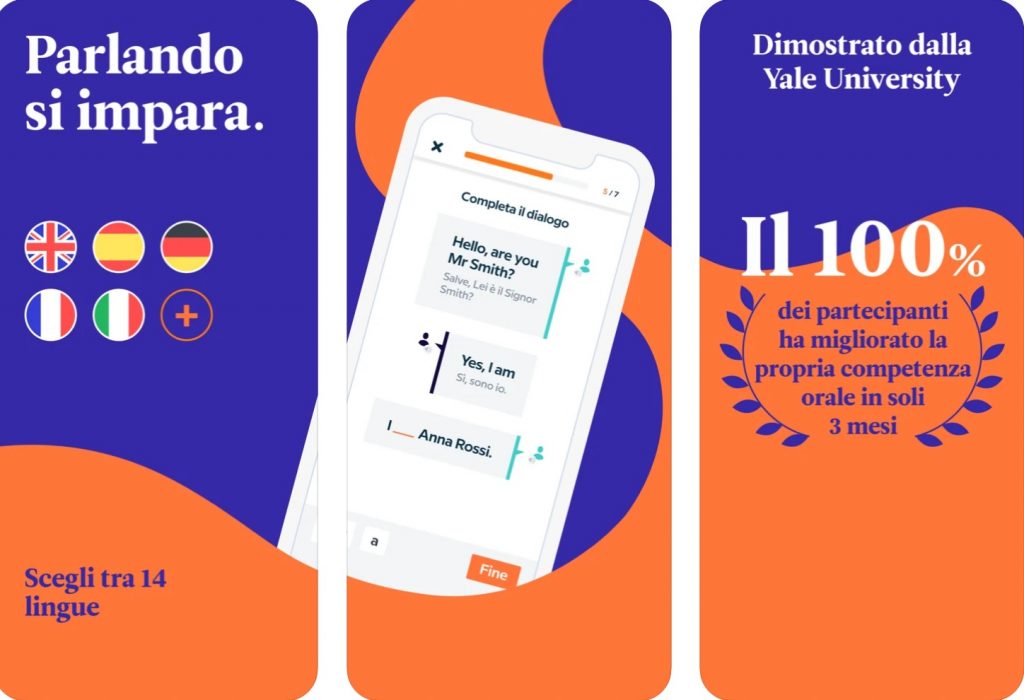 Babbel is the largest online language learning company in Europe, having been started in 2011. It has grown to include more than 30 languages, including Italian, of course. Babbel allows learners to study languages on the go while maintaining a solid understanding of grammar principles and cultural fundamentals. Millions of bits of original content are used in the interactive learning experience. Is Babbel good for learning Italian? Yes. Babbel, unlike other language learning apps, takes a classroom approach. The lessons are organized by level and follow a set of guidelines. You can spend 3,6,9 or 12 dollars to join the platform. This structure will assist you in developing a consistent study habit (which is critical in language learning) and hold you accountable throughout the process.
7. Memrise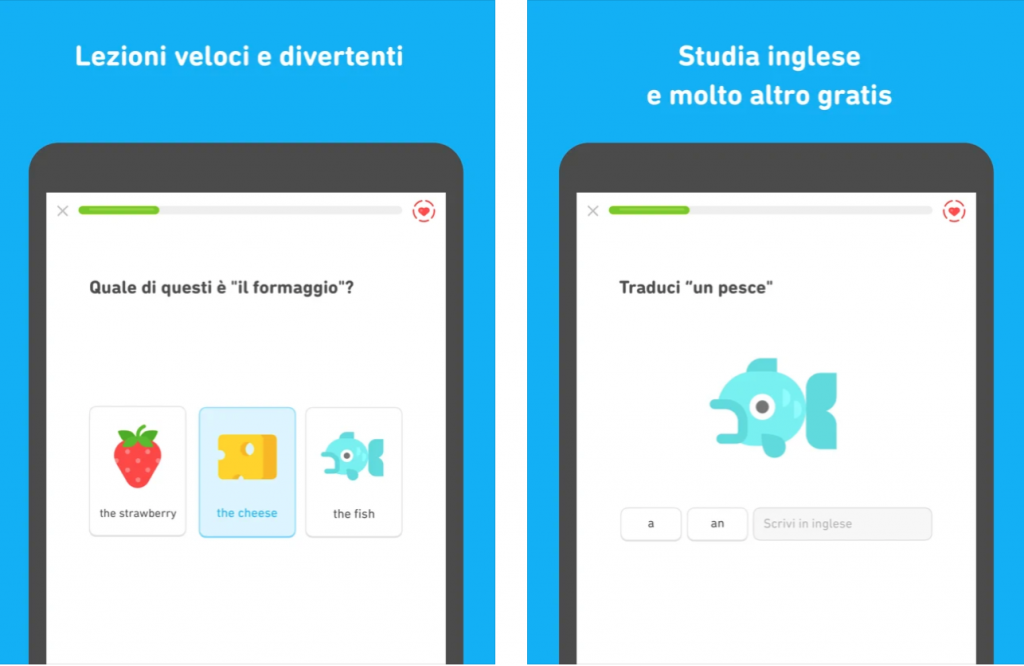 Memrise, uses the spaced repetition system, as do many other apps. In simple terms, it means you'll be given the same inputs at regular intervals. It has a large number of language courses to choose from and an easy-to-use but also dynamic interface with gamification features that keep you accountable in your Italian learning. Members of Memrise can make their own set of flashcards and share them with the community. 
Italian language learning apps to connect with Italian native speakers and tutors 
8. Tandem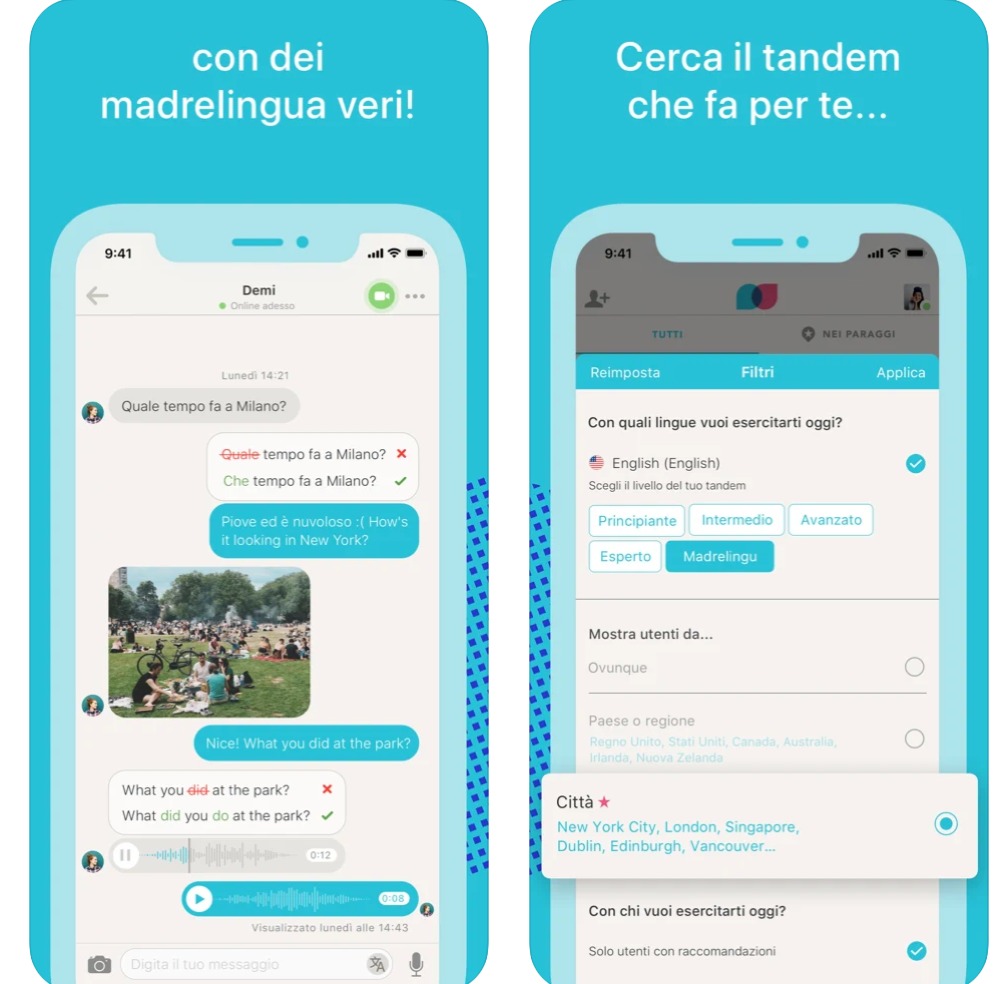 Tandem is a free language learning app that allows participants to interact and speak with one another. The user interface is simple. You must specify your Italian language level and mother languages, and the algorithm will do the rest. If you are starting out in Italian, make an effort to find partners who have comparable language learning needs as you.
9. Hello Talk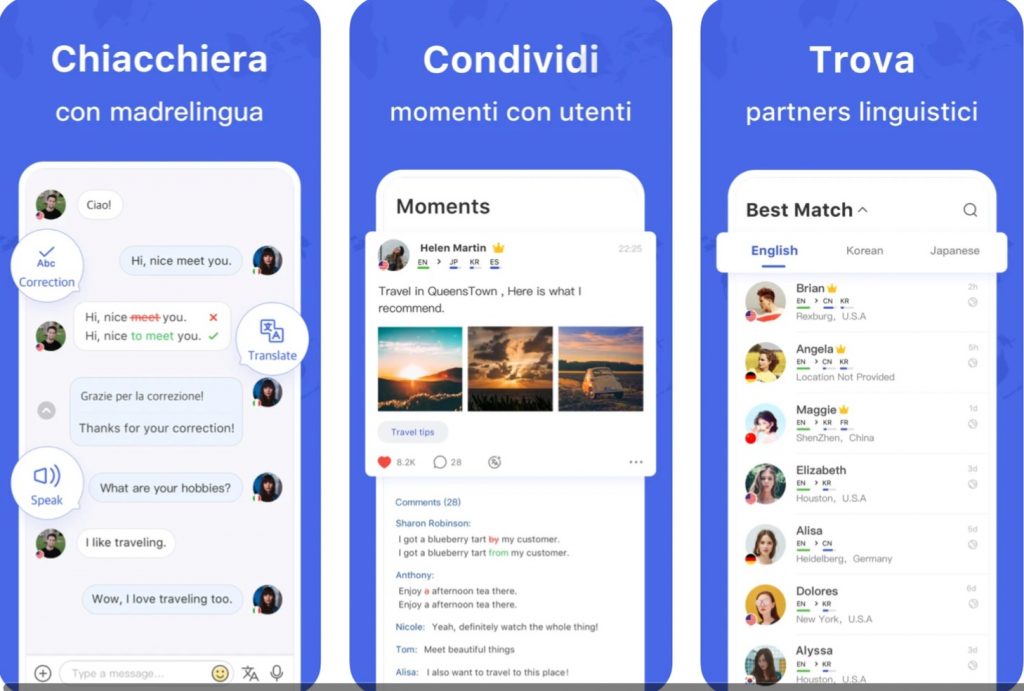 Like Tandem, Hello Talk is a community of international language exchangers where you can look for a language partner with similar learning requirements. Through Hello Talk, you can text or speak for free in Italian to the community members. You can use HelloTalk to hone your Italian grammar skills through translation, transliteration, AI-assisted grammar correction, and text to voice.
10. Italki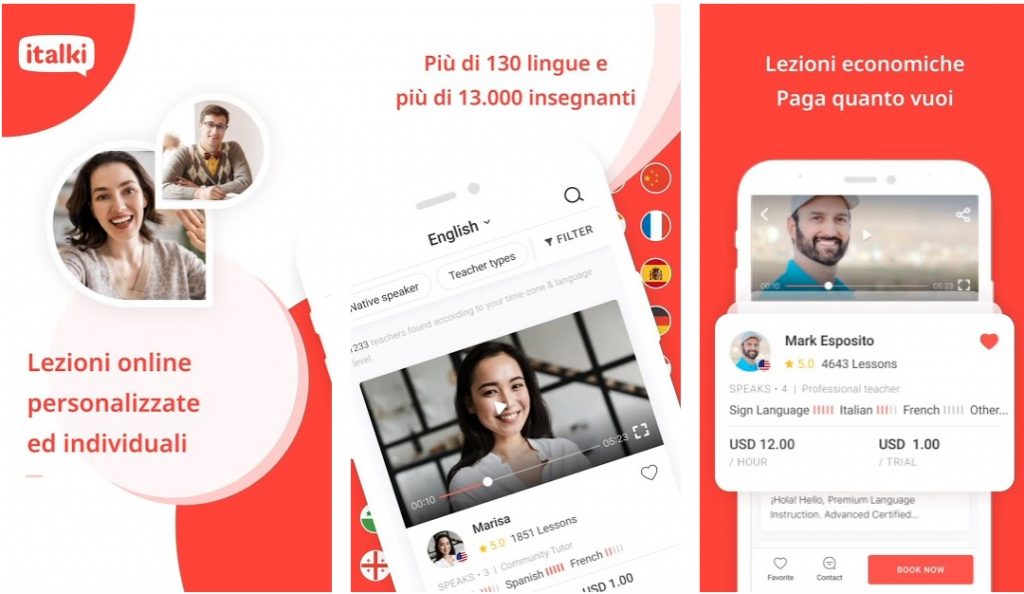 Italki is a marketplace for tutors. It's a place where you can find a native Italian speaker and informal tutors and schedule time with them to help you improve your language skills. Italki is a user-friendly and, in most cases, inexpensive way to practice your Italian with native speakers. I wouldn't recommend it to beginners, though, because most tutors utilize it to start their online teaching careers. Instead, it's a great platform to hone your intermediate or advanced Italian or meet new Italian-speaking friends.
11. Quizlet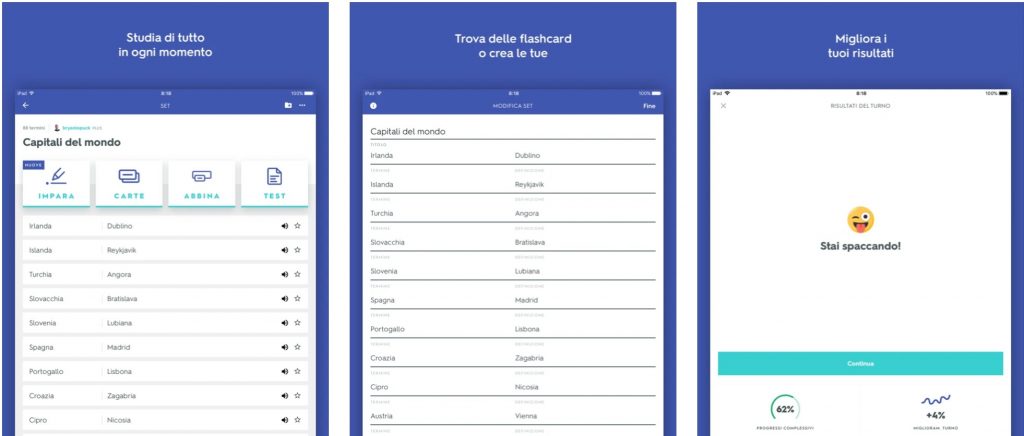 Quizlet is a study tool that lets you make and share study sets. You can also look for study sets created by other people or teachers by subject or user name. Quizlet is a free online study tool for preparing for classes, quizzes, and tests. It has a very user-friendly interface with many essential features like the option to study offline, add voice recordings to flashcards, and share your work. 
What are the best language learning apps for Italian learners? 
I enjoy combining my study time with Quizlet, ItalianPod101, Hello Talk, and Beelingua,  (yeah, I adore reading!) as an avid language learner and visual learner. 
The best strategy is to try a few of them and choose the one that will help you advance the most and adopt an Italian learning habit into your daily routine. 
Are you using an excellent app to learn Italian that isn't on this list? 
Please let us know!