TOP FREE RESOURCES TO IMPROVE YOUR ITALIAN LISTENING
Conversation blends together speaking and listening skills.
Tuning up your listening in Italian is as vital as training your pronunciation and speaking.
If you are serious about improving your Italian listening skills, my number one advise is PRIORITIZE it for some time. If you want to make dramatic progress in a specific language area, the way to go is focusing on that one area for a couple of months. You avoid, like this, to spread yourself too thin on several different tasks.
SMART TIPS
Be consistent. Don't make a salad of all the possible resources. It will be counterproductive. Choose one or two listening sources that pick your interest. Work with them until you are comfortable listening and understanding that type of source.
The questions of the questions: shall I watch a movie with or without Italian subtitles? If I listen passively to a video or podcast and I don't get most of it, will it work? I am afraid; it won't.
The language acquisition theory of the comprehensible input
My best tip and the one that I share with all of my students in my Italian fluency programs refers to the language acquisition theory of the comprehensible input of Professor Krashen (University of California).
According to his theory, to acquire a language naturally and not consciously, the input must be comprehensible. Comprehensible input means that the listener can understand it despite not understanding all the words and structures in it. So, it would help if you listened to something a little above your level. If you don't have an adequate level, watching any Italian audio source without understanding most of it (say 70%), won't help you to learn the language naturally.
Instead, it would help your natural language acquisition, listening to an audio source that is a little bit above your level.
This way, you will understand the "missing parts" from the contest.
Your native language
Boosting your listening skills will also depend on your native language. If your native language is Spanish, it means that you might be able to pick many sentences out of Italian TV without even knowing a lot of the language because the words are transparent (they have the same Latin root). If your native language is German, it might take a while before you can watch a movie, as most words are entirely different.
Top free tools to practice your Italian listening (for beginners and intermediate students) 
7 minutes in slow Italian
This is my brand new Podcast, designed for advanced beginners and intermediate Italian learners. It's a series of short and sweet audios at two speeds: natural and slow. The topics cover interesting and quirky Italian facts and curiosity. It's a podcast series designed to help nonfluent Italian students to enhance their active listening and boost up their Italian vocabulary skills. Each Podcast episode comes with a transcript and vocabulary sheet. And it's made with the love and care of passionate Italian coach.
GET ALL THE PODCAST EPISODES WITH THE TRASCRIPTS 
Lyrics Training  
Improve your listening skills dramatically by active listening. Listening to Italian songs can be an enjoyable pastime, but you don't internalize the new combinations of words until you listen to it actively.
How can you do it?
Go to www.lyricstraining.com
How does it work?
You pick an 

Italian song

You set your level of Italian (beginner, intermediate or advanced)

As you watch the music video that you have chosen, the lyrics are presented below
You can listen to the song and read the lyrics, but I think that the most fun and productive approach is to use one of their features that allows you to fill the gaps with the missing words in the lyrics. This is a killer method, that other than helping you to reinforce your Italian grammar and learn new expressions will help you to better your ability to recognize sounds.
Onlineitalianclub.com
What is going to make the difference in listening to Italian conversations.
When you go to Italy, you will be immersed and surrounded by Italian dialogues. It is not rare to hear my students being frustrated by not understanding what was going on in a conversation at the reception of their hotel or the cash register at the grocery store, even though they can understand the Italian news pretty well. If this happened to you too, it does not mean that your Italian is poor. It means that you haven't been exposed to day-to-day Italian conversations, and so, you are not familiar with the every-day Italian ways of interacting.
The onlineitalianclub.com audio section has a long list of mini-dialogues covering the most frequent Italian ordinary situations, and they come with transcriptions. 
Podcasts for learning Italian 
Using Italian Podcasts is the best way to get acquainted with the real language and catapult you towards Italian fluency.
There's a myriad of learning Italian podcast out there, and picking the right for one for you is not always easy.  That's why I sorting here the resources I use and I like by levels.
Italian podcasts for beginner students 
If you don't have yet a level allowing you to catch an entire conversation, I recommend you use ItalianPod101, where you can find plenty of beginner dialogues with transcriptions and translations, grammar explanations and the option to slow down the pace of the audio.  Another excellent free Italian audio source is also alma.tv where you can find many instructive videos about Italian language and culture with subtitles.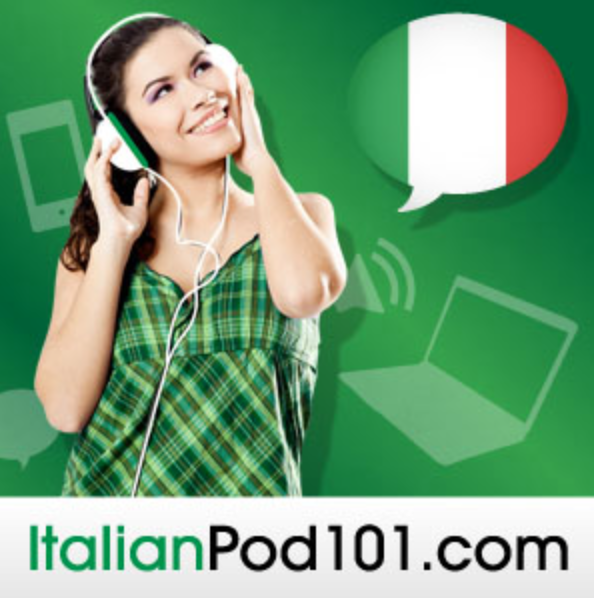 Examples of Italian beginner. conversations on ItalianPod101 

Italian podcasts for Intermediate students
At this level, I recommend using 
Easy Italian – a free Youtube channel where you can find natural and spontaneous Italian conversations and small-talks. This is good for those who want to practice and learn the "street Italian," as all the videos are in the shape of mini-interviews conducted by a native Italian to native Italians. 
News In Slow Italian – News in slow is a famous Podcast that reports in several languages, including Italian, the top world news, in slow Italian. There is both a free membership that includes just the audio version and a paid membership that provides for transcriptions and extra learning tools.
Coffee Break Italian – Another famous Podcast in English and Italian that covers from Italian dialogues to more advanced Italian culture-related topics. The input is presented in Italian and, in a second step, translated and analyzed in English. 
Improve your listening skills with my Italian short story series!
This
is
not
a
free
resource,
but
it
is
reasonably
priced.
It's
a
short
store
series 
with
slow
audio
thought
for
beginners
and
intermediate
learners.
Why is my Italian short story series different from the other stories you can find on the market?
You'll have access to a slow audio for each chapter, narrated by me
You'll learn how to travel as a local in Italy.
You'll learn culturally relevant history and details about the regions of Italy.
You'll have access to content optimized for learning by a highly qualified instructor. 
You'll receive a study guide and flashcards you can review at any time on Quizlet.
Everything is on Gumroad, so you can read and listen anywhere and anytime! 
How can this material help you improve your Italian listening skills? 
You will have access to understandable Italian input.
You'll be able to read and listening at the same time (reading and listening at the same time will help you become familiar with how words are pronounced). This technique is especially useful for visual learners.)
💡smart tip
To make the most of your listening time, you need to listen to the input actively. It is not important how long or short the input (the Podcast) is, but how actively and consciously you listen to it. 
Example of active listening
Listen to a Italian Podcast episode 

Listen again to the Podcast and read its transcription simultaneously 

Take a note of the new relevant words and sentences for you

Throw them into your next Italian conversation
Top free tools to practice your Italian listening (for advanced Italian learners)
PODCASTS
If your level of Italian is somewhere between upper-intermediate and advanced, you should consider using only authentic listening material. The Podcast industry is booming in Italy too, and I am sure you can find an Italian Podcast that picks your interest. 
Ideally, at this point, you should use Italian as a tool to access and learn about your hobbies and interests. For example, I have recently started to listen to a Podcast about spirituality in German. Like this, it does seem to be that I am learning German; rather, it seems to me that I am using German. That's by far the best way to improve your Italian too, at home. 
In this post of mine (in Italian), you can find a list of good Italian Podcasts for native speakers (or advanced Italian learners) 
How to use a Podcast for advanced learners of Italian 
Browse iTunes and pick a Podcast of a topic of your interest, in Italian.

Listen to an episode twice. You will understand more and more as you listen to the episodes repeatedly.

Start a Google Doc where you write down new Italian words or combinations of words.

Talk about the episode with your Italian tutor or coach by using the new words and expressions.
ITALIAN TV
ITALIAN YOUTUBERS AND INSTAGRAMERS 
If you can follow an Italian conversation with ease, you should consider using the Italian Youtbers and Instragrmaers to get more familiar with a more informal way of speaking. For instance, if you like healthy cooking, look for an Italian guru in this field and follow her live streamings, stories, etc…in Italian. YouTubers tend to use informal, day-to-day language that will help you to get used to street Italian without living in Italy.
11 Italian YouTubers to improve your Italian 
ITALIAN AUDIOBOOKS
Are you an auditory learner? I mean, are you the kind of students that learn by listening?
Then, practicing your listening in Italian audiobooks will do wonders to polish and improve your advanced Italian. All you have to do is sign up for Audible Italy and browse your favorite Italian writers.