How to Study for CILS B1 for Citizenship – Tips and Tricks
If you end up here, you need to pass the Italian certification test to get your citizenship. In this post, I will expand on the CILS B1 for Citizenship test (CILS B1 cittadinanza).
For the sake of thoroughness, I must say there are at least two other B1 certifications that will serve you to get your citizenship. The reason why I am expanding on the CILS is that:
The CILS is the most popular one and the one that many of my students have already taken and passed. 

The CILS B1 offers the option of taking a test exclusively for citizenship purposes (CILS B1 Cittadinanza)

, which is more accessible and shorter than the regular CILS B1 test.
The CILS B1 for citizenship (CILS B1 Cittadinanza) consists of five sections and will take two hours to complete. 
a reading part 

a listening part

the grammar & vocabulary  part

a writing part

an oral part
I will now expand on how to adequately prepare for each section to ensure you will successfully pass the exam and apply for your Italian citizenship. 
What are the best strategies to successfully pass the Italian CILS B1 test? 
1. The reading task
The Italian CILS for Citizenship (B1) consists of 3 short texts and lasts 45 minutes. The first two texts require you to complete multiple choice answers. The third one is a set of sentences to sort out into the shape of a coherent text.
How to improve your reading to pass the B1 Italian language exam? 
At this level, I recommend my students use the Italian short stories published by Alma Edizioni for levels A2–B1 or read the news using the website ANSA. 
As stated in many articles, reading is a fundamental part of your Italian language learning process. While reading, you absorb the correct language patterns naturally and reactivate the passive vocabulary and grammar that you have internalized in different situations.
The short stories are great because they are short (while a whole book might be overwhelming, you can choose those that adapt more to your actual level).
If you want to improve your beginner or intermediate reading skills, I recommend using these short stories in simple Italian that I chose for my private students.
https://italianpills.com/blog/2021/11/25/italian-short-stories/ 
2. The listening task 
The Italian CILS B1 for Citizenship consists of 3 audio recordings.
What is the best way to improve your listening skills to pass the CILS B1 test? 
Your listening is not perfect at this stage, and you can probably grasp basic Italian conversation here and there using the most systematic vocabulary. 
To improve your Italian listening at this point, you should use audio materials that are suitable for your level. 
That means that you should listen to understandable content (you understand most of it). The best option is to use the audio Italian short stories with the incorporated audio (see options here) and my podcast in Slow Italian.
The rule of thumb is that if you don't understand most of it, you are not using the correct audio source for your current level. To challenge your listening and gradually improve, you should not listen to and try to understand a movie or even the Italian TV news. Instead, it would help if you listened to audio sources that are slightly higher than your current level of Italian. Like this, you help your brain absorb the new language naturally and consciously. 
The key to improving your listening skills in Italian is being exposed to it as much as possible. This is my selected list of valuable resources to tune up your Italian ear. 
Helpful resources to improve your Italian B1 listening skills
3. The communication part (vocabulary + grammar) 
This part is called "Analisi delle strutture di comunicazione" and is meant to examine your B1 grammar in contextual exercises. This section consists of three activities. The first two are filling the gap exercises, where you are asked to guess the correct articles, prepositions, or verb conjugations. The third prompt is a vocabulary-based exercise about choosing the right word for each gap. To succeed at this stage, you should master the B1 Italian topics that you can check out in this post. 
The best strategy to prepare for this communication part is to exercise your Italian through writing. It would be helpful to focus on writing and reading and learn naturally what prepositions go after certain verbs or the right pronoun for that verb.
An example from a CILS B1 sample from a previous exam 

4. The writing part 
The writing part for the CILS B1 for citizenship consists of two writing prompts an e-email (around 80 words) and a short essay (approximately 100 words) about a general topic regarding your life (e.g., describing your latest birthday or vacation).
Examples of writing prompts from a CILS B1 exam sample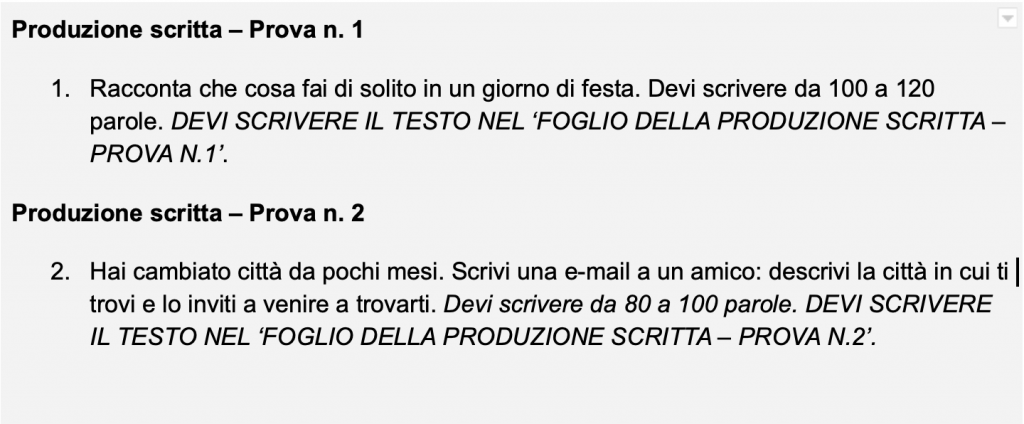 How to improve your Italian writing to pass a certification? 
Writing won't only help you pass your Italian exam. It's also a fantastic way to brush up on high-frequency errors, prepositions, and verb conjugations in Italian.
The most important part is to have your Italian essays corrected and edited by your professional teacher (best case scenario) or your language exchange partner. Most learners use their language exchange partners only to practice their conversational skills. Why not use your Italian conversation partner to have your short essay corrected? I guarantee you will be surprised at how much you can learn from your mistakes.
To give you an idea of how writing can be effective and efficient to improve your Italian grammar and speaking flow.

This is a short text written by an intermediate student; as you can see, it is possible to detect some of her high-frequency mistakes through a simple piece of writing.
A writing prompt can serve as a magical tool to see the sore points in grammar and vocabulary.  In this case, despite having reached an intermediate level, we found out that she was misusing the words meglio/migliore, male/cattivo, and il/lo. Addressing high-frequency mistakes is essential. If you don't do that at the due time, they will become "fossilized." I like to call "a fossil" a mechanical error because it has never been corrected before.
5. The speaking task  
The speaking part for the CILS B1 consists of two speaking prompts. 
The first speaking prompt comes in the shape of a short dialogue between the examiner and the tester about a simple topic like the latest museum you have visited or her last vacation or her favorite singer.
The second speaking prompt does not involve the examiner, and the candidate should discuss a general topic regarding his life or describe an image that he has been presented with.
The speaking part lasts some minutes, and it is recorded on the spot. 
Where should you focus your attention?
This test is perfectly doable with a sound preparation regarding the required topics.
I think the CILS B1 for citizenship is a lot easier (and shorter) than the regular B1 test, so if you need the certification to get your Italian citizenship, don't look any further. 
As a trainer for students who need to pass the CILS exams, I have seen that the listening and communications part might be a little more challenging than the other ones, and so, that is why I ask my students to spend more time on it. 
Top textbooks to prepare for the CILS B1 for Citizenship test  
It depends on your starting point. If you are starting from zero, you should make sure you cover the beginner levels (A1-A2) and then learn the B1 grammar soundly. 
Once you land the intermediate level, you can start to train to pass your CILS B1 certification. The best is to buy a textbook that collects the certification test samples at your level, like the textbook Percorso CILS 1 – B1  
If you are an advanced beginner or a lower intermediate student in Italian, I recommend using the book Easy Italian Step by Step to reinforce your grammar background and fill in the gaps. 
COVID-19 Emergency  
Because of COVID-19, some testing centers have changed the exam and will only allow students to sit for the oral exam for the time being. In this situation, the oral CILS B1 exam will consist of a monologue about the candidate's general life (life, career, family, interests, friends, past trips) and a dialogue with the examiner on a variety of subjects from four possibilities (like in the examples below)
Secondo te, è meglio fare un lavoro che piace o un lavoro che fa guadagnare molto? Perché? – In your opinion, is it better to do a job that you enjoy or a job that earns a lot? Why?
Qual è la tua esperienza di formazione linguistica in Italia o nel tuo Paese? È stato difficile imparare la lingua italiana? – What is your language training experience in Italy or in your country? – Has it been difficult to learn the Italian language?  
The examiner will consider your intermediate Italian grammatical knowledge when determining whether or not you pass the exam