8

 Easy Readers in Italian for Intermediate Learners (A2-B1)

If reading in Italian has become too much for you, you may not have been using the right content and should think about changing it.

There are countless ways to learn new vocabulary and grammar at an intermediate level of Italian, but the most important thing you need to keep in mind is this fundamental principle: reading the right content at the right level.

Don't worry. You will not need to have an excellent command of the Italian language. You won't have to sit and look up every second word in the dictionary. If you choose the right material, reading can be a fun way to learn Italian at any level.

Remember that the learning content you use doesn't have to be authentic in order for you to make steady progress in your Italian studies. The appropriate level for you should be slightly higher than your current one, challenging but not excessively so. Overwhelming takes the fun out of things!
Why are short stories an effective learning tool?
I understand if you've tried and failed to learn new vocabulary using endless vocab lists or flashcards.
It has happened to me as well.
We can't learn words in isolation.
We must associate them with meaningful content, a memory, or a story. You'll find words that fit with the context in a short story, and that's how you'll end up memorizing a ton of new vocabulary and naturally perfecting your grammar.
Learning words in isolation won't get you very far if you don't associate them with any memory.
Immersing yourself in a short story will help you learn proper grammar, learn words and expressions in context, and come up with a good strategy for repeating words and phrases.
Because a short story rarely exceeds 20-30 pages, re-reading the content is a simple task. And the key to learning almost anything is repetition.
If you're an intermediate Italian learner, you'll find a collection of fantastic short stories in this post to help you improve your language skills in a fun way.
All of them have proven to be a quick and easy way for my students to improve their conversational skills in a short amount of time.
Incontri in Sicilia – Chapter 1 [FREE download]
Incontri in Sicilia
is the second episode of my short story collection which help you understand Italian and Italy better through real-life dialogues. The protagonist is Fiona, the first in her Italian-American family to learn her ancestors' language. At university in the US, she earned a scholarship and moved to Rome to improve her Italian for a semester. But there's more to the story. To complete an Italian citizenship application, she must obtain a copy of her great-grandfather's birth certificate. This brings her to
Sicily
. In Sicily, she has several encounters that will forever alter her future.This short story is appropriate for all Italian learners who have at least a
pre-intermediate level of proficiency in the language (A2)
. This book might be useful for the B1(intermediate) level too.
Le Avventure di Paul a Roma (A1-A2-B1)
Le Avventure di Paul a Roma  – Chapter 1 [FREE download]
Do you know that Rome is a jigsaw puzzle of different neighborhoods, each with its own identity and history? Follow Paul's adventures in the numerous neighborhoods of Rome, learn more about the Eternal City, and improve your Italian understanding through simple Italian dialogues and stories.
This book is ideal for advanced beginners and intermediate Italian learners. Each chapter is short enough that you can read it in minutes and is followed by a bilingual word list (ENG-IT)
A free audio recording of the story is included with the book. Not sure Le Avventure di Paul is the right level for you? Download the PDF of chapter 1 for free here.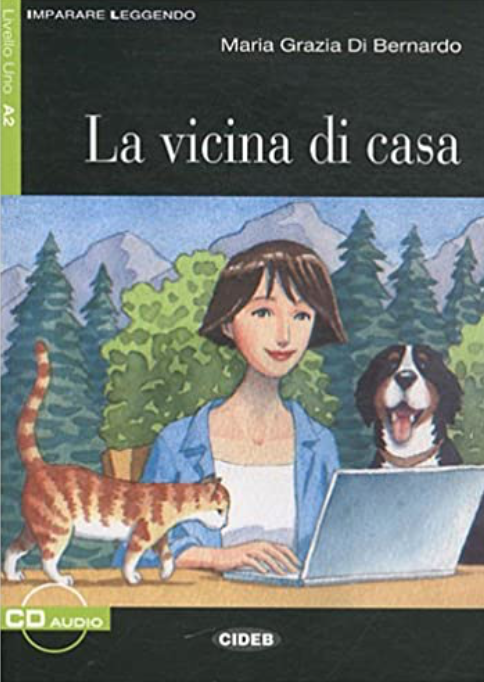 This short storybook is an easy read for intermediate learners who want to also learn about the 
beautiful regions of Northern Italy: Piedmont. The story revolves around a young writer who leaves the bustling city of Turin to find peace in the calm and of the Italian Alps, in a small village called Morinesio. There, she will learn to live at a slow pace and make new friends. The book comes with a CD audio version and plenty of excellent drills at the end of the book to help you memorize the new vocabulary and reinforce the main Italian grammar topics at an intermediate level.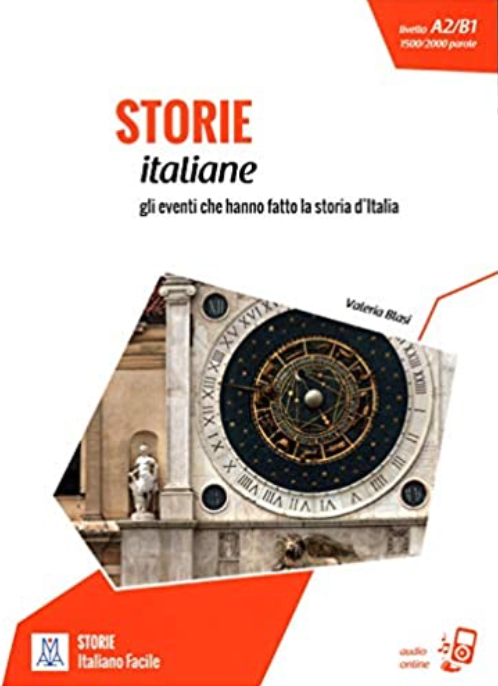 This is an exquisite short storybook for those who want to learn about the most important Italian historical events/ages. Each chapter is a short story set in a specific historical time, like the Renaissance, the Fasciscim, or the Italian Unification. The book comes with an exercise section and supplementary information boxes to understand better the time discussed for the story.
The vocabulary and grammar used to suit a good intermediate level.
A collection of fun short stories where the main topic is love! Each chapter corresponds to a different mini love story and consists of two to five pages. The vocabulary and grammar used are suitable for lower-intermediate and upper-intermediate Italian learners. This short story book has an audio version and comes with a dedicated exercises section at the end of the book.
This is an easy read for the lower-intermediate level. Veronica is a young woman living in Milan. Her life rotates around her career until she meets on a train a young artist that will turn her life upside down. The two fall in love, but Veronica has a well-kept secret that Massimo will try to uncover. 
The book has an audio version. Each chapter ends with a worksheet with vocab and grammar exercises pertinent to the chapter.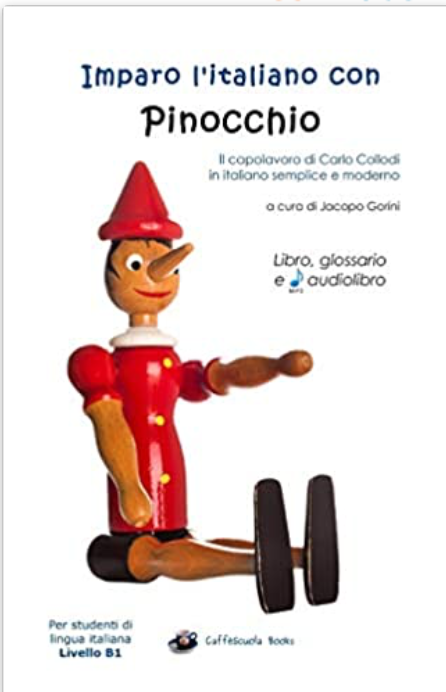 Le Avventure di Pinocchio  (B1-B2)
This short storybook is the original version of Carlo Collodi's masterpiece "Le avventure di Pinocchio," written in Florence in 1881. This version has been re-written in a simplified version for intermediate Italian learners as a second language by Jacopo Gorini. The author made sure the text's musicality and beauty remained the same, as did the totality of the chapters. You can also download the audio-book by following the instructions at the end of the book. A separate exercise workbook will help you to internalize the new vocabulary and grammar at an intermediate level. This book has a kindle version. 
This short story book is slightly different from the other ones. It is a collection of comics. Each comic revolves around an aspect of modern Italian society. For example, the way Italians greet by kissing each other on the cheeks or their hatred towards the rain! 
If you haven't used comics to learn Italian so far, you should give it a try. This form of learning will take your Italian a long way as it will help you familiarize yourself with the language in the shape of dialogues. This book is for all levels, from beginners to upper-intermediate. Each chapter ends with a supplementary worksheet about the Italian culture, idioms, vocabulary, and grammar pertinent to the comic you have just read.
Smart tip 
Passive learning:  read it and listen to the content once.
Active learning:
Read it.

Listen to the content repeatedly.

Seek new words or sentences.

Create your flashcards.
Proactive learning: use or lose it! Make a written summary of each chapter, ensuring you are using the new set of words and sentences. Talk about it: bring it up in your conversions with your teachers or language partners.