Elevate Your Italian Learning with These 9 Books for Beginners 
Whether in a classroom setting or on your own, I recommend using a combination of three books to structure your Italian learning experience:
A short novel: Choose one that is tailored to your language proficiency level. It will help you piece together all the bits and pieces of grammar and vocabulary you have learned along the way. If you haven't used short stories yet, read my guide here on how to make the most of them.

A textbook: Old school or not, a textbook is essential for progressing from level A to B, as it provides a structured foundation. Textbooks are more effective when used with a teacher, but they can also be valuable for self-study.

A grammar book: A reliable grammar book will be your lifelong companion, and it's often best to have one in your native language.
These are the same books that I would recommend to my private clients.
1. Due Amiche e Un Album di Fotografie (short story for beginners)
If you have studied Italian for just a few months, I recommend using this short novel in VERY easy Italian, which uses the top 100 most common words. Unlike many other similar products, Serena's books are indeed geared towards beginners and upper-beginners. Every chapter is bite-sized, and sentences are short to avoid overwhelming. The book is written using the present tense and the passato prossimo (only in the last chapter). Reading a whole book at a beginner level will be a rewarding experience and will make you eager to study more Italian.
2. Le Avventure di Paul a Roma (short story for upper-beginners)
Le Avventure di Paul (Short Stories in simple Italian for beginners) is a short novel set in Rome, featuring a Wonder who takes a solo vacation in the beautiful capital city of Italy and has his life turned upside down by an unexpected job offer. This book is a good match for beginners, upper-beginners, and lower-intermediate learners. It features the most common Italian verbs and words you need at a beginner level, along with a set of retention activities at the end of each chapter. Additionally, it includes an audiobook to enhance your listening skills.
3. Easy Italian Step By Step (grammar book) 
This is an excellent reference grammar book for both beginners and intermediate students of Italian. Whether you are just starting to learn Italian or have been studying for a while, this book will be a valuable companion. It provides clear grammar explanations in English for beginners and intermediate topics, along with an extensive list of grammar exercises. Answer keys are also included at the end of the book.
4.
Gramm.it for English Speakers (grammar book)
Gramm.it I for English speaker s a beautifully designed grammar book that covers all essential grammar topics, from beginner to upper-intermediate levels. Each topic is presented clearly with charts and illustrations and is followed by a list of exercises. This book serves as an excellent reference for beginners and is equally great for intermediate learners seeking a go-to resource for refreshing and practicing specific grammar topics. Unlike many other Italian textbooks, this one provides prompts in English.
5.
English Grammar for Students of Italian (the study guide for those learning Italian)
Is grammar painful? Then you must get this reference book, which has been designed to help English native speakers break down complex grammar topics (e.g., what is a pronoun, a conjugation, or a preposition) with the goal of aiding in a better understanding of Italian grammar by comprehending your own grammar. This is a book that every English speaker with not-so-strong grammar foundations should get before embarking on the beautiful journey of learning Italian.
6. In Alto A1 (textbook for beginners)
In Alto A1 is a fantastic textbook for those who are just beginning to learn Italian. It includes dialogues, listening exercises, grammar lessons, and reading activities. Each unit touches on a different vocabulary topic and will gradually take you from level A1 (complete beginner) to level A2 (upper-beginner). It's better to use it with a tutor, but you can still navigate the book on your own. This textbooks is entirely written in Italian, and includes a downloadable audio file. 
7. New Italian Espresso (textbook for beginners and intermediate learners )
Probably one of the most popular Italian textbooks of all time, it's designed to take students from a beginner to an intermediate level. It's also available in a digital format. The instructions for the activities are provided in English, making it suitable for following a structured learning path. It's more effective when used with a teacher rather than for independent learning.
8.Le prima parole italiane con esercizi (vocabulary drills for beginners) 
This is an Italian book designed to help beginners acquire the most common Italian words. It includes exercises and answer keys. Unlike many other similar products, this one focuses on the 1000 high-frequency words and verbs. If you master how to use those, your conversational Italian will improve significantly.
9.
501 Italian Verbs (grammar book for verbs)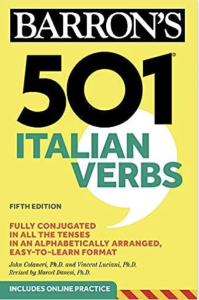 Verbs are at the core of the Italian language as they provide direction to our sentences. Finding verb conjugation difficult? All you need is extensive practice, which this book provides. It's not only meant for beginners but for all levels. Therefore, if you're a beginner, try to focus only on verb tenses that are useful at your level (present tense, passato prossimo, imperfetto, future tense).