Far from the crowds and the standard archaeological sights and the touristy beach towns, Sicily reserves endless hidden gems for those wishing to visit the Island off the beaten path and discovering the authenticity of its places and the people.
Today I want to write about Milazzo, a small town rich in natural and cultural heritage with a lot of things to see and to do at any time of the year. Milazzo stands out for its variety of landscapes: cliffs, sandy beaches, Arab-Norman vestiges, a picturesque historical center, cable stone streets and breathtaking views over the Aeolian Islands.
The old city center spins around the hilltop castle whose fortifications date back from the Stone Age. Today the castle is a vestige of the civilizations  (Greek, Arab,  Norman, Byzantine, Spanish) that settled in Sicily during the ancient times.  Although each of the civilizations that ruled the city left a mark on the architecture of the castle, today one can admire the castle just like us the Spaniards rebuilt it.    The castle is one of the largest in Europe of its own and included a citadel with public and private building such the Cathedral and the Benedictine Convent.  Also, the castle is famous amongst the locals for being infected by a couple of ghosts who apparently would inhabit the fortress during the nights.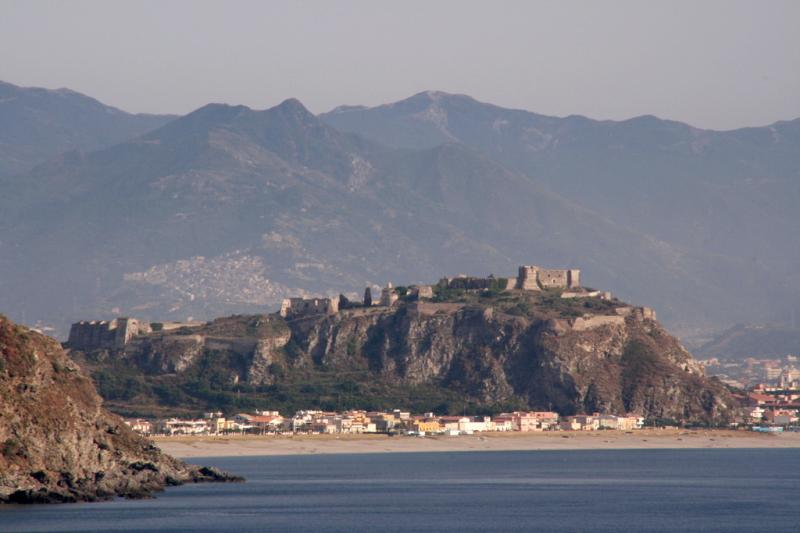 From the old city center, known as the 'Borgo' one can get to the promontory of Capo Milazzo: a 5 km strip of land that extends into the Mediterranean Sea. Capo Milazzo reserves many beautiful views points, villas, restaurants and a natural reserve that culminates in the Lake of Venus: a natural pool surrounded by cliffs and Mediterrane flora. What makes special the pool is the water temperature which is always warm because of the low backdrop. This place is special at sunset, with the background of the Aeolian Islands visible in the distance.
The city center also includes a more modern area with museums, restaurants, luxury shops, cafeterias, pastry shops and the beautiful Marina Garibaldi's promenade'  The promenade is lively 12 months a year with locals going for stroll at weekends and having an ice cream the Italian way while enjoying the beautiful views of the old town and the sea.
30 minutes drive one can get the promontory to the Natural Reserve of Tindari. A set of small lakes scattered in a strip of sandy land. The lakes take continuously different forms depending on movements of the sea. In the same area stands out a sanctuary famous for its black Virgin, that has been Christiane Pilgrimage site for decades, hosting even a major event with Pope John Paul II in 1987.
No matter what, everybody agrees that the food in Italy is excellent everywhere. However, one cannot deny that the Sicilian Patisserie is the country's best.  Well, a typical pastry shop in Milazzo looks more or less like this…