CILS B1 Cittadinanza (Citizenship): Speaking Part 
The duration of the entire exam is 2.05 hours
The speaking part will take 10 minutes
There are two tasks (a brief introduction of yourself + a topic of your choice to develop) 
An example of speaking prompts from an official B1 Cittadinanza Test. 
Check the PDF of the complete B1 Cittadinanza (Citizenship) test here.
How to do well on the exam's speaking section 
Have a good understanding of intermediate Italian grammar topics. To find out which ones they are, go to this post. 

Complete as many practice tests as you can and have them corrected by your teacher.

Elevate your Italian speaking skills by writing in Italian. 
Why is writing so important in preparing for the oral portion of the B1 Cittadinanza test?
Writing is like speaking in slow motion;

when writing you'll have time consider what you want to say and how you want to say it; 

you have time to look-up a dictionary; 

you will naturally learn how to construct sentences; 

you can have it corrected by a teacher who can point out common errors, polish imperfections, and help you elevate the level of your sentences and fluency;

you will cement and internalize everything you learned in formal classes; 

most importantly, what you write is, above all, the preparation for what you will say.
A list of topics to work on to succeed at the speaking part of the CILS B1 Cittadinanza 
Ti piace viaggiare? (racconta un tuo viaggio).

Ti piace leggere o andare al cinema (racconta un libro che hai letto o un film che hai visto).

Ti piace cucinare? (racconta una ricetta e/o una storia legata alla cucina o al cibo)

Ci sono delle differenze tra la cultura italiana e la tua? (racconta una somiglianza e una differenza tra le due culture)

Fai la raccolta differenziata? Quali sono le principali regole da seguire? Pensi che sia una cosa giusta? Nel tuo Paese è presente?

Preferisci la città o campagna? Spiega i perché della tua risposta.

Hai la patente di guida italiana? Ci sono delle differenze tra l'esame di guida in Italia e quello nel tuo Paese?

Quando cerchi una casa da prendere in affitto o comprare a che cosa fai attenzione? Quali sono le tue esigenze?

 
Would

you

like

to

work

on

the

above

questions

with

our

help

and

guidance?
You
can
do
so
by
scheduling
a
one-on-one
conversation
with
Serena,
Alice,
or
Valeria.
Here is where you can book your session.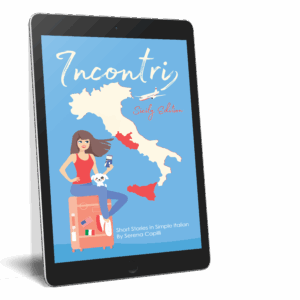 Fiona is the first in her Italian-American family to learn her ancestors' language. At university in the US, she earned a scholarship and moved to Rome to improve her Italian for a semester. But there's more to the story. To complete an Italian citizenship application, she must obtain a copy of her great-grandfather's birth certificate. This brings her to Sicily. In Sicily, she has several encounters that will forever alter her future.