Italian pronunciation guide for absolute beginners
What you should learn to pronounce Italian correctly from day one: 
My best advice to a complete beginner is to take their time learning the fundamentals. Guaranteed, a solid foundation will improve your fluency in the long run. A bad pronunciation habit acquired as a beginner can become an automated mistake in the long term. And God only knows how hard it is to unlearn mechanical errors. 
Mastering Italian pronunciation will also boost your confidence when speaking; a clear articulation of the sounds allows a native speaker to understand you as a beginner. On the other hand, sometimes it can be hard to comprehend advanced Italian speakers with poor pronunciation.
How to train your Italian pronunciation as a complete beginner
Learn the rules and apply

them
Read easy pieces of writing in Italian, like the simple sentences or dialogues that you will find in your textbook or the Italian short stories for beginners (with audio).
Record yourself using your phone.
Get feedback from a teacher or use a dictionary to test your pronunciation

 
Don't be afraid of speaking with an accent; Italians themselves, from North to South, speak with plenty of accents, and we still understand each other. As a beginner, internalizing these few rules will go a long way. 
The Italian pronunciation
Italian is a phonetic language, and this is good news for any complete beginner. It means that you read just what is written the vast majority of the time, unlike in English.
That makes it easier to read and speak Italian as a beginner, as you won't have to spend a lot of time on the pronunciation rules. 
Most of the Italian consonants are pronounced just like in English.
As far as the Italian vowels are concerned, there are a few differences. Let's dive into them. 
The Italian vowels 
The vowels in Italian correspond to one and only sound, unlike English. There are 5 vowels in Italian. 
A is like  "a" like in father. 
E is pronounced "e", like in get or end 
I is pronounced "ee" like in cheese 
O is pronounced "o" not
U is pronounced "oo", like in boot
The Italian Alphabet 
Before anything else, it's a good idea to learn the Italian alphabet. There are 5 vowels, 16 Italian consonants, and 5 foreign consonants (k, j, y, w, x) in the Italian alphabet.  Only foreign words use the five foreign consonants.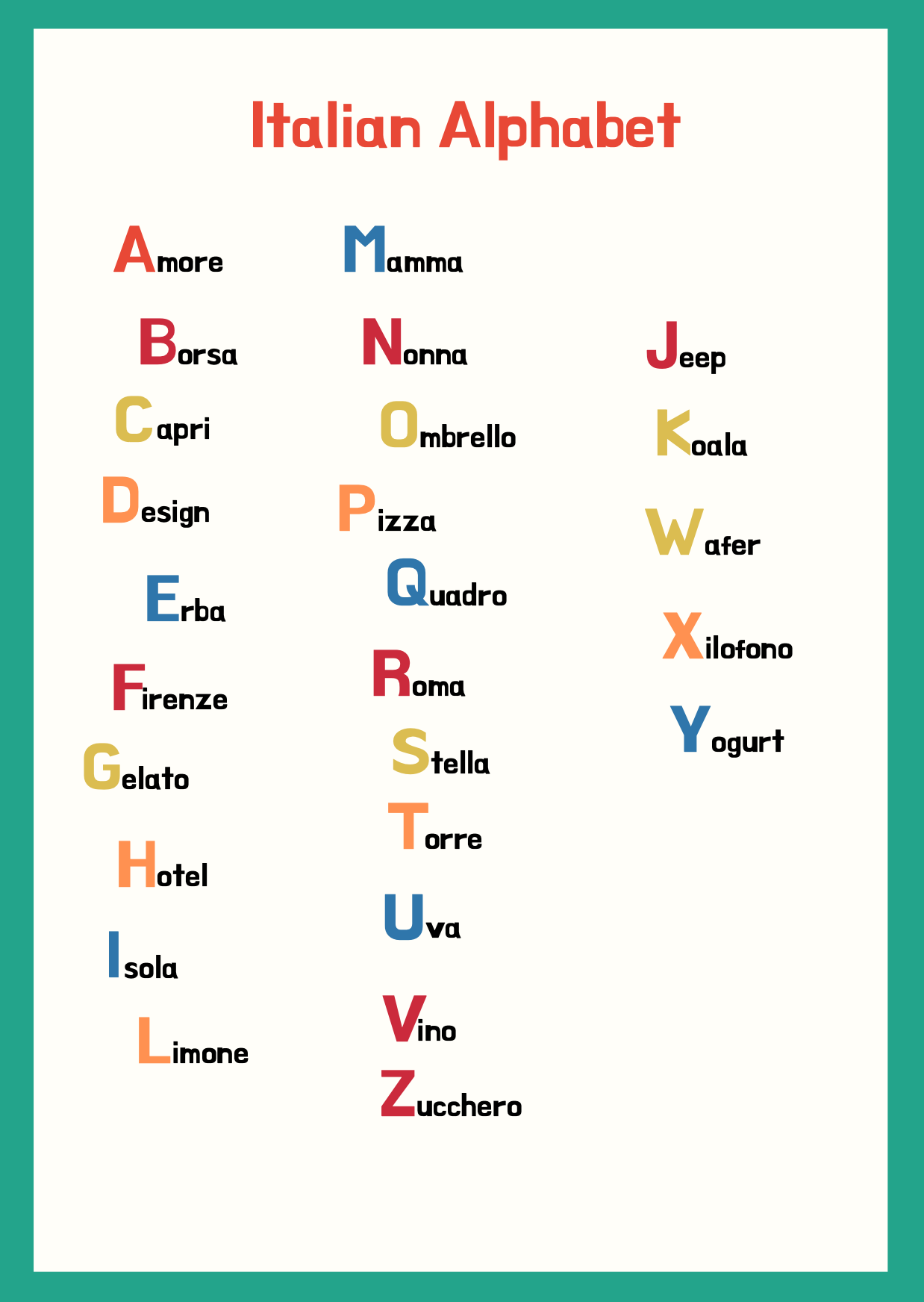 Spelling in Italian 
Italian is a phonetic language, which means that, unlike in English, you read what is written the majority of the time. Because we can recognize the orthography of a word just by listening to it, it's rare for a native Italian speaker to ask to spell something (including a complicated last name). Italians don't spell; in fact, we don't even have a verb for "to spell," so we say "fare lo spelling," which literally means "to do the spelling."
Pronunciation rules 
Despite most Italian consonants being pronounced just like in English, there are a few letter combinations with different pronunciations.
Let's call them "exceptions."
If you master these, you will be golden.
The sound "GLI"
This is a sound you will hear in the word "famiglia" 
To get a good pronunciation of gli, think about the English word "million." If you're having a hard time pronouncing "gli," try opening your mouth as if you were similing, when pronouncing it.
Romance language speakers have a similar sound though, which is ll in Spanish (like in the word paella), ll in French (like in the word fille), and lh in Portuguese (like in the word filho). These sounds are not exactly the same as the Italian gli. Gli is in fact more exaggerated.
Words for practise the sound gli​
fami

gli

a (family) 

botti

gli

a (bottle)​​​​​​​​

coni

gli

o (rabbit)
The sound "GN"
The "gn" is similar to the sound in the word onion. Or, for those who are familiar with Spanish, with the sound, ñ, like in España. 
Words for practice 
bagno (bathroom)
ragno (spider)
castagne (chestnuts) 
gnocchi 
The sound "C"
The "c" can have a hard sound or a soft sound. Let's see what it means. 
The hard sound of the C is pronounced like in the name Karen 
The soft sound of the C is like in the name Charles 
The hard sound of the "c" occurs when the "c" is followed by the vowels "a", "o", or "u", or appears in combination with the "h" in the combination H+I or H+E.
To recap
When the "c" is followed by an a,o, or u, it has a hard sound, like in Karen or Karl 
In Spanish, French, and Portuguese, this sound corresponds to "qu"
Words for practice
When the "c" is followed by an "i" or "e", it is pronounced like in Charles 
Words for practice
The sound "G"
Just like the letter "c", "g" can have a hard sound and a soft sound. 
The "g" followed by an "a", "o", and "u" has a hard sound like in Guy. 
In Spanish, French and Portugues corresponds  to the sound "gu"
Words for practice
When the "g" is followed by an "i" or "e", it has a soft sound, like in George.
Words for practice
Very important…
When the "C" and  "G" are followed by an "H+I" or an "H+E" the resulting sound is "hard" like in Karl or Guy. 
Words for practice
The sound "QU"
The "qu" sound is pronounced like in the English word "queen."
Words for practice
The "H"
The "h" is silent in Italian, and this means that it is just written, but never pronounced. So, if you had to read the word "hotel" in Italian, you would start from the "o" and say "otel".
Words for practice 
hotel
ho, hai, hanno (I have, you have, they have)
The sound "SC" 
To pronunciation of "sc" is linked with the correct pronunciation of the letter "c"
Hard sound
sca, sco, scu, sche, schi → hard sound, just like the English Skeleton
sci, sce (scia,scio, sciu) → soft sound, just like in the English word Sharon  
Words for practices (hard sound)
sche

rzo (joke)

bagno

schi

uma (shower gel) 

sca

rpa (shoe)

oro

sco

po (horoscope) 
Words for practices (soft sound)
a

sce

nsore (elevator)

sciare (to ski)
sciroppo (syrup)
scimmia (monkey)
How to pronounce double consonants in Italian 
Double consonants are sounded double
palla and NOT pala
mamma and NOT mama
The "R" sound
The Italian "r" sound is rolled on the tongue. To roll your R, place the tip of your tongue on the roof of your mouth, just behind your two front teeth. 
To practice the "rolled r", you can use the English words "butter" that already has a built-in rolled r. 
Words for practice 
azzurro (blu)
arrivare  (to arrive)
errore (mistake)
rumore (noice)
It's totally fine if you can't roll the r perfectly…
Rolling the "r" is not a big deal in Italian. In southern Italian, the r is less rolled (and exaggerated) than in other Italian regions. I, myself, don't have a heavily rolled R, and my accent is very standard. 
Double consonants 
The
difference
between
double
consonants
and
single
consonants
is
enormous.
PaLLa
is
a
ball,
while
paLa
is
a
shovel.
CaRo is expensive, caRRo is a wagon. 
One
more
consonant
 has
the
potential
to
alter
the
definition
of a word
.
It
can
be
difficult
for
non-native
speakers
to
tell
when
there
is
a
double
sound
and
when
there
isn't.
The
only
way
to
learn
how
to
pronounce
and
write
double
sounds
correctly
is
to
read
a
lot
so
that
you
can
associate
a
sound
with
the
way
it's
spelled
naturally.
How to pronounce words like papà, città, università 
in Italian, when the accent falls on the final vowel it is accented: it means you will have to emphasize the last letter, which is always a vowel. 
more words for practice
caffè
papà
università 
realtà
novità
The Italian intonation 
Other than pronouncing the sounds correctly, what's going to make your Italian sound extra natural is placing the stress on the right syllable. Unlike English, Italian intonation is entirely predictable, as, in the vast majority of words, the stress is placed on the second syllable.
man- 

gia

– re (to eat)

gio-

ca

-re (to play)

di-

va

-no (couch)

ne-

go

-zio  (store)
This trend does not hold up to all the Italian words, though, and there are some exceptions.
Some words place the accent on the last syllable. For example, the words which end with a graphic accent mark (and that's the only case in which you can see a graphic accent in Italian).
caffè
papà
università 
realtà
novità
Many connectors place the stress at the back of the word, like
perché
così
poiché
affiché 
Some words place the accent on the third syllable. Like,
zuc-

che-ro

ta

-vo-lo

san

-da-lo

sa

-ba-to

mi

-ti-co
As you can imagine, it's impossible to keep track of all the varieties and intonations. For now, learn these general rules and combine them with listening and shadowing exercises.
This is a guide for Italian beginners, which does not dive into the nitty-gritty of Italian pronunciation. For this reason, I didn't cover the difference between long and short vowels in this post. Italian is spoken with an immense variety of accents. In some regions, or even cities, certain vowels are pronounced short and closed, while in others they are pronounced long and open (and that's what generally lays a line between Southern, Central, and Northern Italian accents)-together with the pronunciation of the "s" and "z." As a beginner or intermediate Italian learner, you don't need to cover these aspects of the Italian language.
Learn Italian the smart way with Serena's stories
Do you know that there is a German-speaking region in Italy? Do you know that when hiking in the Dolomites, you can refuel at a local "malga"? And do you know what typical food in the Dolomites is like? If you don't, you can learn everything about it in simple Italian by listening to and reading my short story "Due Amiche."