CILS B1 Cittadinanza (Citizenship): Writing Part 
The duration of the entire exam is 2.05 hours
The writing portion will take 40 minutes
There's only one task.  
The CILS B1 citizenship writing section includes two writing prompts. Only one prompt must be chosen and completed. You'll be asked to: 
write down a text in the shape of an email or message (around 80 words) that you write to your work / friend / a local authority / a school / etc…

a short essay (around 100 words) about a general topic in your life, for example, describing your latest birthday or vacation 
An example of writing prompts from an official B1 Cittadinanza Test. 
How to do well on the exam's writing section 
It is necessary to have a good understanding of intermediate Italian grammar topics. Check out my post here to find out which ones they are. 

Complete as many mock tests as you can and have your teacher correct them. 
The importance of writing in Italian 
I'd like to say a few words about the importance of writing when studying for the Cittadinanza test or in general as one of the best ways to improve your Italian. 
When you're writing..
you're speaking in slow motion; 

you have time to consider what you want to say and how you want to say it; 

you have time to consult a dictionary; 

you have the opportunity to practice your sentence-building skills;

you can have it corrected by a teacher who can point out common errors, polish imperfections, and help you elevate the level of your sentences and fluency

And most importantly,  you will cement and internalize everything you learned in formal classes; 
More sample writing prompts for the B1 Cittadianza Exam 
Stai facendo un soggiorno linguistico a Firenze. La persona con cui condividi l'appartamento è molto disordinata. Scrivi una mail alla direttrice della scuola per spiegare la situazione e chiedere di cambiare alloggio (You are doing a language study stay in Florence. The person you share the apartment with is very messy. Write an email to the head of the school to explain the situation and ask to change accommodation.).
more samples to come in the next days…
Book a one-on-one coaching session with us to help you prepare for and pass the Citizenship Exam's speaking portion.
Here is where you can book your session.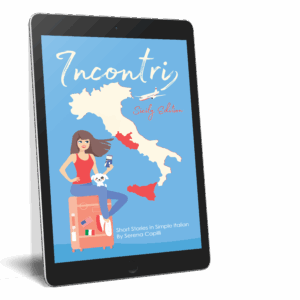 Fiona is the first in her Italian-American family to learn her ancestors' language. At university in the US, she earned a scholarship and moved to Rome to improve her Italian for a semester. But there's more to the story. To complete an Italian citizenship application, she must obtain a copy of her great-grandfather's birth certificate. This brings her to Sicily. In Sicily, she has several encounters that will forever alter her future.