How To Improve Your Listening Skills as a Beginner in Italian: a Review on Italian Pod101's Language Learning Podcast 
Many students fall into the trap of focusing all of their attention on grammar or conversation when learning a foreign language. They believe they will develop a natural ear for listening. 
I firmly believe, instead, that listening to Italian is crucial for all levels,  and especially beginners.  When you first arrive in Italy, your first encounters with the local language will be limited to understanding what people at the airport or in bars/markets are asking you. 
As a beginner, focusing one's attention on listening is essential. As a beginner in Italian, being exposed to the appropriate listening content will aid you in learning to speak Italian with proper pronunciation and intonation. 
What steps should you take as a beginner to improve your Italian listening comprehension? 
You can't and shouldn't try to listen to authentic content as a beginner (films, podcasts, etc..). What you require is exposure to content that has been broken down into easily digestible chunks for you. Have you ever heard about the comprehensive input theory?
Stephen Krashen's  language acquisition theory 
According to Krashen's theory of language acquisition,  listeners can understand comprehensible input even if they don't understand all of the words and structures contained within it. Giving learners this kind of input, helps them acquire language naturally rather than consciously. You should always make sure that you use a listening resource which is just above your level when working on your understanding of the Italian listening system.  In other words, when using learning resources in your target languages, you should be able to understand at least 70% of what's said (or written)
How Does ItalianPod101 Help You Learn Italian?
ItalianPod101 is a fantastic platform for Italian learners to improve their novice or intermediate listening comprehension and much more. 
I've used Podcast101 in German and Portuguese as a language learners, and it's one of the resources I always recommend to my students, regardless of their Italian level. In fact, ItalianPod 101 offers instruction in all levels of Italian. Despite this, I believe this platform is excellent, particularly for students with a beginner/intermediate level of Italian. 
Audio resources can be difficult to come by as a beginner or low intermediate Italian learner. Using native or advanced content will only result in frustration, so it is not an option. 
Italian Pod101 has a series of bite-sized podcasts for beginners or those who have developed solid Italian grammar or conversational skills but are still struggling with the language's listening component. What distinguishes this podcast, in my opinion, is that the content is mostly presented in the form of simple or intermediate conversations between two Italian native speakers, as opposed to many other sources (for example, short stories) that narrate the language.
ItalianPod101.com – Start Mastering ItalianToday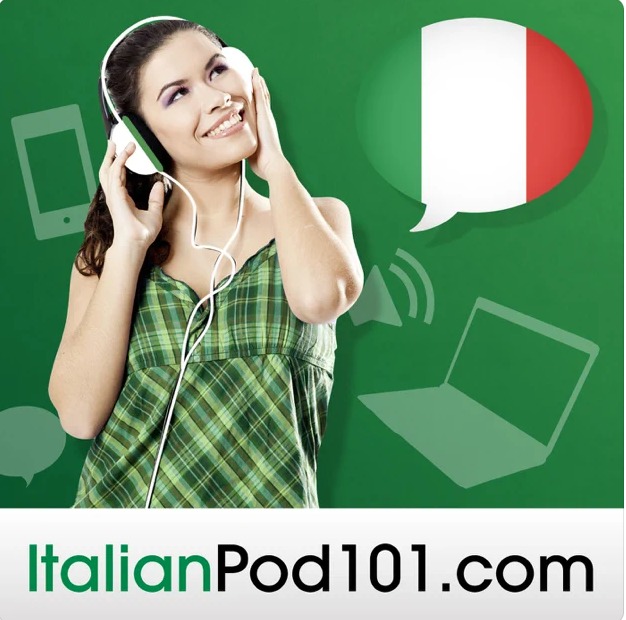 What's the Benefit of ItalianPod101 for Language Learners?
ItalianPod 101 covers a

wide range of topics,

from absolute beginners to advanced. 

It

offers both

free and paid

memberships. 

The audio content is

short and simple. 

You can

change

(slow down) the podcast's speed. 

The audios are

accompanied

by

high-quality

learning

materials

(transcriptions, translations, flashcards and quizzes) 
The vast majority of audios, most importantly, are presented in the form of dialogues. This

cannot be overstated.

When

you're

in Italy,

you'll

be surrounded by

people talking

all the time. It

is critical

to learn

how to phrase a question in Italian and

to be prepared to answer it from day 1! 
How to Get Started with ItalianPod101
Sign up (both free and paid memberships are available). 

On the top right, choose your Italian level: absolute beginner, beginner, intermediate, upper-intermediate, or advanced. 

Have your level assessed or decide

which

module

is

best

for

you.

You should use the content for absolute beginners or beginners

if you are a beginner. If you are unsure about your level, try a few different levels and use the Krashen's law to

determine

which course

is best for

you.

The ideal learning content should be

challenging,

but

not too easy

or

too

difficult.

I recommend the conversation series "Italian listening comprehension for absolute beginners" or "Italian listening comprehension for beginners" if you have already learned Italian for two or three months . Ask your tutor for assistance if you are having difficulty navigating the content provided by the platform.  
After you've decided on a useful listening resource for you, set a learning schedule for yourself,

such as listening

to an audio every other day or once a week.

What

will

make a

difference is the consistency

with which

you learn, not the quantity. 

Commit to proactive learning by first listening to the track, then simultaneously listening to and writing on the transcript, and finally taking notes. Take note of the interesting and useful vocabulary and grammar structures and add them to your flashcards or notebook. 

Once

you

cover a module

or

half

a

module, stop and

review the words and grammar

you've

learned. Repetition is tedious, but it is effective.

There is a

good

chance

that

your work will be lost forever if you do

not

make time to go over

it.

Bring the audio content to your classes if you have a tutor. You either use it or you lose. 

Contact us if you'd like to work on this podcast with me or one of our teachers.
What are the Contents of Each Course?
The topics covered in the podcasts range from cultural Italian aspects to practicalities such as talking about your schedule in Italian or listening to the weather report). If you're not sure which module is best for you, try a few and then stick with the one that you find most useful at your level. Remember to use content that is just right, not too easy or too difficult. 
Example of the course content for the conversation series "Italian listening comprehension for beginners) 

Example of a several different modes included under the Italian beginner level.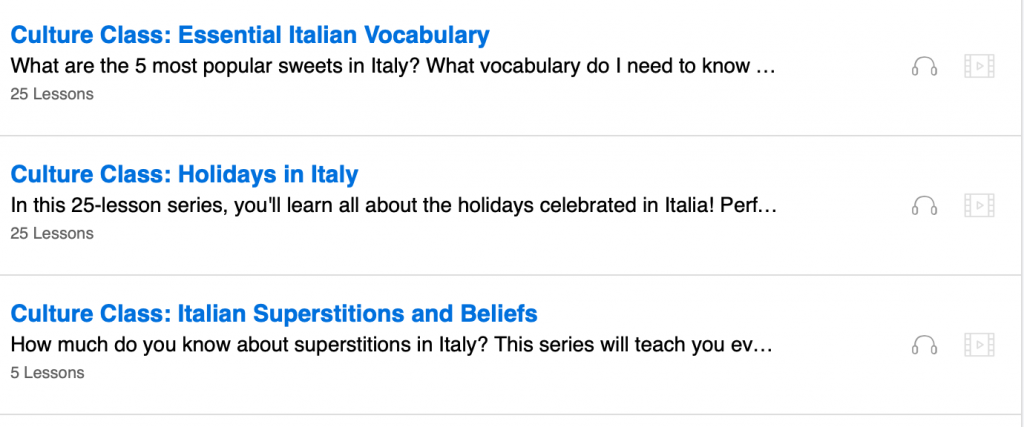 How to Use The Podcast Proactively and Improve Your Italian Listening Comprehension Skills 
Don't overstretch yourself;

pick one

module and

finish

it. Then

do it again. 

Listen to each podcast episode without interruption

for

the first time. 

Listen and take notes the second time around

(if you can access the transcript, good, print them out) 

4 weeks later, listen again. That way, you'll be able to see how far you've progressed. 
Take notes! Taking notes is an art form in and of itself. Many students never finish their work because they stop every second to take notes. That is, of course, not the way to proceed. Prioritizing important pieces of information (words, verbs) over others is the way to go.  If you're not sure whether something is important or not, pause for a moment and consider: how many chances would I have to use this word in Italian if you were in Italy? Is it, on the other hand, a word that I am likely to use in my native language? Learn the words that are meaningful to you. To have a conversation in Italian, you don't need an infinite vocabulary. What is more important is that you understand how to put together the most common Italian words and verbs.
This Podcast Is Not The Way To Go If…
You are a complete novice in Italian. 

Listening is your Achilles' heel, you've mastered the fundamentals but are having trouble telling sentences together. 

You

prefer to

learn

on

your

own. 
What I Don't Like About ItalianPod101
Massive marketing, but you can unsubscribe at any time. 

If you have too many options, ask your tutor to assist you in making a decision.